Description
Max is making mischief in his wolf suit, so his mother sends him to bed without his supper. In his room he imagines a forest grows and he journeys to where the Wild Things live. They are fierce but he conquers them by meeting their eyes. They make him their king and have a wild rumpus. But Max is homesick so he returns home to discover his supper waiting in his room for him.
Reader's Reviews
1.
I feel the book is seriously overlooked by many. The story intertwines all things that a child can imagine up when emotions run wild. The kid wants to feel he/she is the one calling the shots until they realize that it is lonely being the boss. I will now always treasure this book to the end, and tell this story to my children. I give it a thumbs up.
2.
It's so sad that Maurice Sendak died frm stroke complications yesterday. R.I.P. Maurice Sendak! We'll miss U and your creative children's literature,too. There was an exhibit about him @ the Contemporary Jewish Museum 2 years ago in January. I didn't C it,b/c I was @ school. Where The Wild Things Are was adapted in2 a feature film.
Parental Guidance
Reading Age: 4+
Reading Aloud Age: 3+
The monsters in this book scare some children.
Images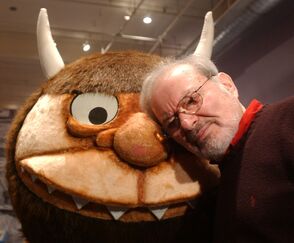 If you like this you might like
External Links
(add external links here)
Ad blocker interference detected!
Wikia is a free-to-use site that makes money from advertising. We have a modified experience for viewers using ad blockers

Wikia is not accessible if you've made further modifications. Remove the custom ad blocker rule(s) and the page will load as expected.