Description
Please note that this "book" is a DVD, including an on-screen picture book. It is not a physical book.
Trisket and Bisket is a series of DVD "books" written by Linnea Cohn and Sarah Alfaro. There are two DVDs in the series so far: How to Share a Grape and How to Get a Grandpa to Grow Up. Super Fun World's "Books In Action" are a category of kids' entertainment that bring books and animation together onto a DVD. In addition to the animated movie, each DVD features an on-screen picture book where your children can choose to read along by themselves or have Trisket and Bisket read to them. Each DVD also features a "Find it" game sure to inspire the detective in all of us!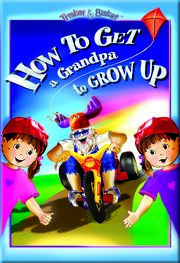 Reader's Reviews
1
Please add your review here.
Books in the series
Parental Guidance
Viewing (or "reading") Age: 3+
Clean.
If you like this you might like
Please add suggestions here.
External links
Ad blocker interference detected!
Wikia is a free-to-use site that makes money from advertising. We have a modified experience for viewers using ad blockers

Wikia is not accessible if you've made further modifications. Remove the custom ad blocker rule(s) and the page will load as expected.