The Tiger Who Came to Tea
Comments

0
1,318pages on
this wiki
The Tiger Who Came to Tea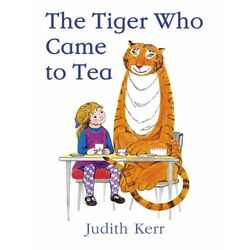 Description
Sophie is at home with her Mummy when there's a knock at the door, which turns out to be a large stripy tiger. They invite him in, and he eats them out of house and home.
Reader's Reviews
1
This is a really simple story, matter-of-fact and fantastic at the same time, without having any obvious moral to the tale. The illustrations are fun for us parents, because they depict an ordinary family in a suburban kitchen in the 1960s, which reminds you how different things looked then!
2
Please add your review here.
Parental Guidance
Reading Age: 5+
Reading Aloud Age: 4+
Clean
If you like this you might like
Judith Kerr is much better known for her Mog Series.
External Links