Description
This is a 4 volume collection of stories that Sendak writes as lesson learning stories for children whether it is spelling, counting, or taking caution whenever you do something.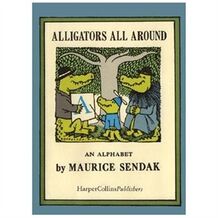 1. Alligators All Around (An Alphabet)
A family of alligators go through the ups and downs of life through an alphabet.
2. Chicken Soup with Rice (A Book of Months)
A story of how a boy likes to eat his soup in may different ways for a month.
3. One was Johnny (A Counting Book)

A book that helps teach children how to count. Johnny likes to be alone but dogs, rats, monkeys, and robbers interrupt his solitude. Only after threatening to eat them do they leave and Johnny solitude returns.
4. Pierre (A Cautionary Tale)
A five party story about an apathetic boy who is swallowed by a lion. His parents return from their outing and rescue Pierre. The moral of the story is to care.
Reader's Reviews
1.
Please write reviews here.
Parental Guidence
Depends on which story your child reads.
If you like this book you may like
Other works by Maurice Sendak.
Trivia
These stories were adapted into a half-hour TV special made by Carole King and Maurice Sendak called Really Rosie.
Ad blocker interference detected!
Wikia is a free-to-use site that makes money from advertising. We have a modified experience for viewers using ad blockers

Wikia is not accessible if you've made further modifications. Remove the custom ad blocker rule(s) and the page will load as expected.