The Mouse Family Robinson
Comments

0
1,287pages on
this wiki
The Mouse Family Robinson
| | |
| --- | --- |
| Author: | Dick King-Smith |
| Illustrator: | Ben Cort |
| Published: | 2007 |
| Country: | United Kingdom |
| ISBN: | 978-0-141-32062-5 |
| Pages: | 88 |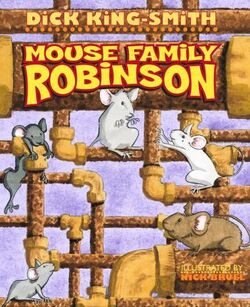 Description
The Mouse Family Robinson is a short illustrated young children's book written by Dick King-Smith. It tells the story of a talking mouse family.
When Beaumont Robinson, an inquisitive young mouse, is nearly killed by a cat, his family decide there is only one thing to do. The must emigrate! And so the whole family set out on a midnight adventure to find a new house.
Reader's Reviews
1
I don't much like Dick King-Smith's other books except The Sheep-Pig. This book had a better story than the other books. Although it's for young children, I really liked this book (I'm 12).
2
Please leave your review here.
Parental Guidance
Reading Age: 7+
Reading Aloud Age: 5+
The adventurous baby mouse is nearly killed by a cat, which could frighten younger children.
If you like this you might like
External Links