The Mountain of Adventure
Comments

0
1,049pages on
this wiki
The Mountain of Adventure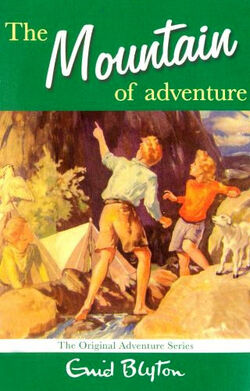 Description
Edit
Mrs Mannering thinks that a peaceful holiday in the Welsh mountains couldn't possibly land the children in another dangerous adventure. How wrong she is! Philip, Dinah, Lucy-Ann and Jack are soon up to their necks in the mystery of a rumbling mountain, roaming wolves, and a mad genius who plans to rule the world.
Reader's Reviews
Edit
Good enough, but the worst of the Adventure series for me.
Please add your review here.
Parental Guidance
Edit
Reading Age: 9+
Reading Aloud Age: 8+
Excitement, danger etc.
If you like this you might like
Edit
External Links
Edit