The Lost World
Comments

0
1,323pages on
this wiki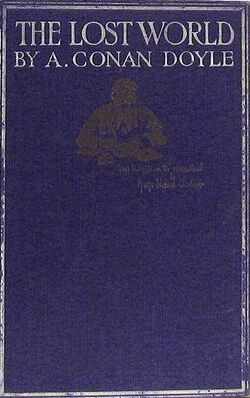 Description
The Lost World is a Lost World, science fiction novel, published in 1912, by Arthur Conan Doyle.
Headed by the larger-than-life figure of Professor Challenger, a scientific expedition sets out to explore a plateau in South America that remains frozen in time from the days when dinosaurs roamed the Earth. Seemingly impossible to penetrate, this lost world holds endless dangers for the expedition...
Reader's Reviews
1
A truly excellent adventure story. It is surprisingly different to Doyle's other, and more famous series of books, Sherlock Holmes.
2
Please leave your review here.
Parental Guidance
Reading Age: 13+
Reading Aloud Age: 12+
Quite a lot of violence.
If you like this you might like
External Links