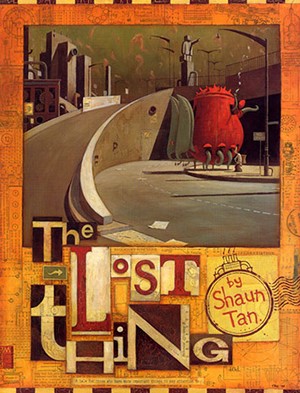 The Lost Thing is a picture book that follows the interruption in the daily life of an ordinary boy when he discovers a 'monster' on the beach and tries to find out where he belongs in a self-absorbed and drab world.
The unsettling, surreal world that Tan creates merges the everyday with the strange and unusual, with a landscape permeated by industrialisation. The city is dull and damaged with decaying and rusting buildings; it simply looks tired and lifeless (there are no plants in the entire book). This is complimented by Tan's purposefully limited use of colour; he sticks to greys and browns for the landscape except for the lost thing, which is bright red and the cause of distraction from the boy adding to his bottle top collection.
The lost thing itself is a peculiar mixture of what looks like a teapot with elements of a crab spilling out. No one cares to notice this odd creature accept for the protagonist, who acts as a symbol of decency and generosity within the dark, detached environment. Even the boy's parents were too busy to notice the imposing creature in their house and when they did they were all too eager to continue their conversation.
This is a running theme throughout the book that this world is cold and selfish, and even comes with a governmental department to deal with the 'Odds and Ends' that do not quite fit in. The place is cleverly subtitled: 'sweepus underum carpetae'. After trawling through the industrialised streets the boy finally reaches a place where the thing may belong. And it is only this page that is not constrained and surrounded by the mechanic textbook background.
Clearly, The Lost Thing invites us to look at society in a different way, encouraging us to notice things and not to ignore those who are different but to help them, as they may need it; A valuable message for both children and adults alike.
It is a fascinating book, full of detailed illustrations with excerpts from a mechanics textbook featuring as the background on each page. Like the message of the story there is much to be noticed and learnt and with every read a new understanding can be found.
It would be suitable for older children, aged 9+ due to the more complex nature of the ideas within the story. It has many levels of meaning but can be simply enjoyed for its endlessly detailed illustrations. This book would be suitable to use across the curriculum and would be ideal for generating discussion, 'what is the lost thing? Why is it lost? How is our world different or similar? What can we learn from the protagonist?' just to name a few.
Ad blocker interference detected!
Wikia is a free-to-use site that makes money from advertising. We have a modified experience for viewers using ad blockers

Wikia is not accessible if you've made further modifications. Remove the custom ad blocker rule(s) and the page will load as expected.