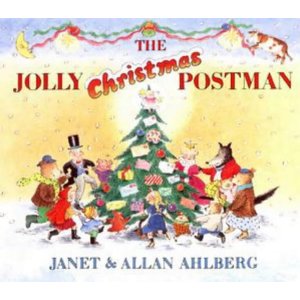 The Jolly Christmas Postman by Janet & Allan Ahlberg
Age Group: Suitable for foundation stage, KS1 and early KS2 (age 4 – 8 years)
The Jolly Christmas Postman is a follow-on book from the original story of 'The Jolly Postman'. The sequel follows the Jolly Postman on Christmas Eve as he delivers a variety of cards, games and letters to recognisable fairy tale characters such as the Three Bears, Little Red Riding Hood and Humpty Dumpty.
Each page consists of a rhyming narration followed by an envelope shaped page. Inside the envelope is an interactive prop such as a card, jigsaw or story book etc.… These can be taken out of the book and viewed individually. In harmony with the original Jolly Postman book, the pages are colourful and beautifully illustrated.
This book would be an excellent accompaniment to a variety of classroom experiences:
·

Literacy- creating imaginative stories and ideas relating to fairy tales and handwriting skills from the letters enclosed.
·

Art and Design- children creating their own correspondences for the Jolly Postman to deliver.
·

Numeracy- basic counting skills; for example, how many snowmen can we see?
·

Drama/dance or Physical Education- re-creating scenes from the story, e.g. 'riding his bike along a crooked mile.'
·

Music- using the rhyming couplets in the story to create a beat with musical instruments.
The book portrays an original view of traditional fairy tale characters which is a theme that instantly connects with children and allows them to draw upon their prior knowledge. I thoroughly enjoyed the book and therefore would recommend it.
Ad blocker interference detected!
Wikia is a free-to-use site that makes money from advertising. We have a modified experience for viewers using ad blockers

Wikia is not accessible if you've made further modifications. Remove the custom ad blocker rule(s) and the page will load as expected.