Description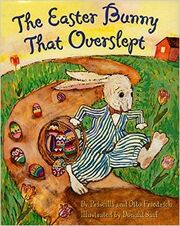 One spring morning, the Easter Bunny skips merrily along to deliver his colorful, hand-painted eggs. But the children tell him that it's Mother's Day, which can only mean one thing: HE SLEPT THROUGH EASTER! Nobody wants eggs on Mother's Day, or on the Fourth of July -- and especially not on Halloween. Children will sympathize with the little bunny's plight and cheer when Santa finds the perfect gift to help!
This book served as the basis for the 1971 Rankin/Bass special Here Comes Peter Cottontail.
Readers Reviews
1.
Please add your review here.
Parental Guidance
Reading Age: add your suggested reading age
Reading Aloud Age: add your suggested read-aloud age
Add comments about the book's suitability, possible concerns and content. If the book is totally clean put "Clean".
If you like this you might like
External Links
Ad blocker interference detected!
Wikia is a free-to-use site that makes money from advertising. We have a modified experience for viewers using ad blockers

Wikia is not accessible if you've made further modifications. Remove the custom ad blocker rule(s) and the page will load as expected.