The Diary of a Killer Cat
Comments

0
1,320pages on
this wiki
The Diary of a Killer Cat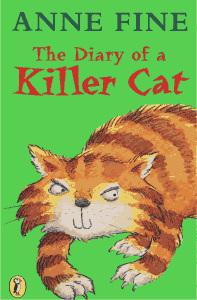 Description
The Diary of a Killer Cat is a comedy book for younger children, written by Anne Fine. It was published in 1994. The book is a fictional diary from the point of view of a pet cat, named Tuffy. The book was a success, spawning four sequels, The Return of the Killer Cat, The Killer Cat Strikes Back, The Killer Cat's Birthday Bash and The Killer Cat's Christmas.
"Okay, okay. So hang me. I killed the bird. For pity's sake, I'm a cat. It's practically my job to go creeping round the garden after sweet little eensy-weensy birdy-pies that can hardly fly from one hedge to another. So what am I supposed to do when one of the poor feathery little flutterballs just about throws itself into my mouth? I mean, it practically landed on my paws. It could have hurt me."
Poor Ellie is horrified when her pet cat, Tuffy, drags a dead bird into the house. But Tuffy can't understand what the fuss is about. Who will be the next victim of Tuffy, the killer cat?
Reader's Reviews
1
Absolutely hilarious, perfect as a family read-aloud. The characters are expertly drawn, and Tuffy's protestations about how it wasn't his fault are just brilliant. Highly recommended.
2
This book is brilliantly written and had me laughing throughout. Anne Fine manages to give Tuffy a brilliantly cheeky personality, which children and adults alike will fall in love with. It is the first story in a series of four, all of which are as good as this debut. Highly recommended for children, parents and teachers.
3
Please add your review here.
Parental Guidance
Reading Age: 7+
Reading Aloud Age: 6+
Clean, although Tuffy's actions are not always right.
If you like this you might like
External Links
Add external links here.