The BFG
Comment

1
1,320pages on
this wiki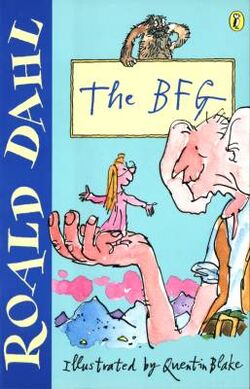 Description
The BFG is perhaps one of Roald Dahl's most well-known and popular books. The story is about a young orphan called Sophie. One night Sophie is having problems sleeping and on looking out of the window, she sees a giant walking the streets. The giant sees Sophie, reaches into her room, grabs her and takes her back to Giant Country. Fearful that her captor is going to eat her, Sophie is relieved to find out that he is known as the Big Friendly Giant and that he prefers eating snozzcumbers to little children.

The BFG is not like the other giants in Giant Country, he spends his time catching dreams and nightmares, the good dreams he blows into children's bedrooms at night and the nightmares he hides away. The other giants are much bigger and meaner than the BFG, they spend their evenings snatching children from different countries and eating them.
Together Sophie and the BFG come up with a plan to tell the Queen of England what is happening, so that she will help to capture the other giants.
Reader's Reviews
1
The BFG is a fantastic book with hysterical language and creative use of double-entendres throughout. A book that readers of all ages can really enjoy!
2
Please add your review here.
Parental Guidance
Reading Age: 9+
Reading Aloud Age: 6+
Clean
If you like this you might like