Room on the Broom
Comments

0
1,050pages on
this wiki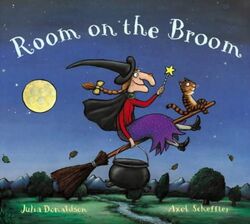 Room on the Broom is the tale of a witch who keeps losing things whilst on her broomstick, her belongings are returned by various animals on the way in return for a ride on her broomstick. Inevitably the broomstick breaks and the witch is trapped by a hungry dragon. The animals help the witch escape the snapping jaws of the dragon and in return she builds a delux broomstick for them all to travel on. (Lisa Gregory)
Reader's Reviews
Edit
Room on the Broom is another brilliant book from the creators of The Gruffalo. Julia Donaldson always manages to create stories with great pace and excitement. This story follows a witch as she embarks on an eventful journey on her broomstick. The elements are against her and the witch loses her hat, bow and wand, but she makes new friends who help her find her belongings and when disaster strikes they save her from a witch eating dragon! To repay her friends the witch performs a magic spell and creates a magnificent new broom with room for all of them.
Julia Donaldson used to be a songwriter before she started writing books, and this is evident in many of her stories. Room on the Broom has a great rhythm and has elements of repetition which young children are able to follow so they can join in with the reading. The illustrations are colourful and attractive and clearly depict the action taking place in the story. I think this book is great to read aloud to foundation and key stage 1 children as the story presents clear morals about friendship and sharing and you can encourage them to identify the animal characters and learn about the different habitats in which they live. This story also has a lot of potential for dramatization because the story has a clear and simple structure which is accessible for young children to reproduce.
Overall this is another triumph from Julia Donaldson and is a great book to read aloud, or for young children to explore on their own through the fantastic illustrations. (Rachel Dixon)
This is a wonderful book with snappy, intelligent rhyme and large, beautiful illustrations. Although it conveys the message of frienship overcoming adversity it is also incredibly fun! For this reason the book can be enjoyed by a large range of children. The rhyme, repetition and high tempo make it suitable to read to children of 4 and upwards and as well as the topics above, it also serves as a great way to introduce a child to Halloween. (Nick Rawlins)
Parental Guidance
Edit
Reading Age: add your suggested reading age
Reading Aloud Age: add your suggested read-aloud age
Add comments about the book's suitability, possible concerns and content. If the book is totally clean put "Clean".
If you like this you might like
Edit
External Links
Edit
Add external links here.

This article is a stub. You can help Children's Books Wiki by expanding it.