Roll of Thunder, Hear My Cry
Comments

7
1,050pages on
this wiki
Roll of Thunder, Hear My Cry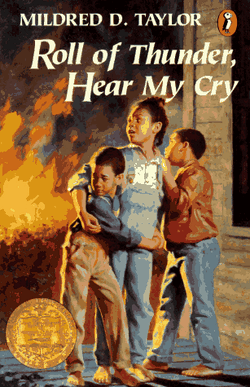 Description
Edit
Roll of Thunder, Hear My Cry is a 1976 children's novel written by Mildred D. Taylor. It tells the story of a land-owning African American family living in a rural area of Mississippi during the 1930s, and how they subsequently cope with mounting white oppression and racism in order to keep their land.
Many of the events and themes are adult in nature, but the book is told in the first person narrative perspective of Cassie Logan, a fourth-grade girl.
The novel won the 1977 Newbery Medal and is considered to be among the greatest children's novels of all time. Its sequel, Let the Circle Be Unbroken, was released in 1981.
The Mississippi of the 1930s is a hard place for a black child to grow up in and Cassie finds it difficult to understand why the farm means so much to her father.
But she begins to reach a painful understanding when she witnesses the hatred and desruction around her and learns when it is important to fight for a principle, even if it brings terrible hardships.
Reader's Reviews
Edit
its a great motha freaking book!READ IT NOWWWWWWW
We read this aloud as a family. It's a book that gives you an opportunity to talk about racism. We found the characters of the Logan family very appealing. We found it a thoroughly good read.
I strongly recommend this book. It paints a vivid picture of the difficult situation facing a black family in Mississippi in the 1930's. The characters of the children are well-developed - you feel for them as they face injustice from both whites and from other blacks, yet they come across as real people with their own faults. I read it with our two eldest children, and found it a worthwhile, thought provoking book.
Well, we read it for school i hated that it had the word n---er in it, because i am african and indian so it kind of sucks, well if i had to rate the book it would be 2.5/5
This book is splendid and a very powerful story that shows what life was like for african americans in the segregated times. AP (13 years old)
Please add your review here.
Parental Guidance
Edit
Reading Age: 13+
Reading Aloud Age: 11+
Racism throughout. Some language, including regular uses of n---er (to reflect the cultural and historical context the book is set in).
A bit sad, so could upset emotional children.
If you like this you might like
Edit
(list other books or authors here)
External Links
Edit
(add external links here)