Description
Dahl was born in Llandaff, Cardiff, Wales, England to Norwegian parents, Harald and Sofie Dahl. Though his range of books has spanned to adult genre stories his children's books make him more well known.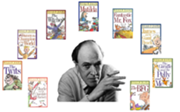 Reader's Reviews
1. MATILDA (1988)
Written in 1988 by the well-known children's author Roald Dahl, this is a story about a highly-intelligent young girl – Matilda. Matilda at the age of five has read Dickens and can do such complicated sums as fourteen by nineteen in her head. Whilst she is a lovable, charming young girl, Matilda also has a strong sense of right and wrong and decides to punish her parents if they are mean to her. After starting school, Matilda develops an unusual skill which she uses to punish her evil headmistress, the Trunchbull.
This light-hearted, fun book, with illustrations by Quentin Blake, would be good for children from the age of 7 or 8. Younger readers will enjoy sharing it with their parents and older children will be able to read it for themselves. The silly tricks Matilda plays will get children laughing whilst they will be gripped by the vicious punishments meted out by the Trunchbull. The book does have a tie-in with Roald Dahl's Revolting Recipes cookbook so children can make Bruce Bogtrotter's chocolate cake. To further bring this story to life, there is a 1996 film version and a musical version currently on in London.
With Matilda, Roald Dahl has written a truly captivating book with the classic happily ever after ending. 
Parental Guidence
Depending on the book, it varies.
List of Books
External links
Add links here.
Ad blocker interference detected!
Wikia is a free-to-use site that makes money from advertising. We have a modified experience for viewers using ad blockers

Wikia is not accessible if you've made further modifications. Remove the custom ad blocker rule(s) and the page will load as expected.