Percy the Park Keeper
Comments

0
1,050pages on
this wiki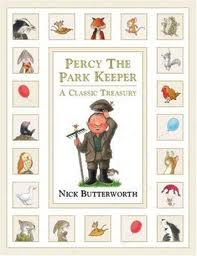 Description
Edit
Percy the Park Keeper is a picture book series, written by Nick Butterworth. It is about a very lovable park keeper who has many adventures with the animals in his park.
Reader's Reviews
Edit
We all enjoyed these books when we were young. A very good bedtime story for young children. All together a very good series about Percy and his animal friends.
We have Percy The Park Keeper: A Classic Treasury which contains a number of the stories in one hardback book. It has lovely pictures on every page too. I read these stories to my boy when aged 5 and my girl aged 4. I read one story each night and when we came to the end of the book I had to start all over again at their request! I think my now 6 1/2 year old would struggle to read it himself and he is currently on level 4 of Oxford Reading Tree series. I would recommend it to be read TO children.
We really enjoy all the Percy books as they are not scary (my children do not like any kind of mild peril!), they have nice pictures which aren't too cartoony and they appeal to a wide age range. They have been popular since our children were 2 and now aged 5 our son reads them to himself over and over again, I'm sure he will still enjoy them for some time to come.
Please add your review here.
Books in the series
Edit
Parental Guidance
Edit
Reading Age:6+
Read Aloud Age: 2-7
Add other guidance here.
If you like this you might like
Edit
External Links
Edit
Add external links here.