Description
The bear from Peru has saved enough money to take the Brown family to visit Santa's Winter Wonderland, but along the way, trouble follows him and even St. Nick himself comes to help him fix it.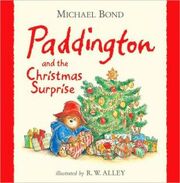 Reader's Reviews
1
Please add your review here.
Parental Guidance
Reading Age: 4-8
Reading Aloud Age: 4-8
Add comments about the book's suitability, possible concerns and content. If the book is totally clean put "Clean".
If you like this you might like
List other books or authors here
External Links
Ad blocker interference detected!
Wikia is a free-to-use site that makes money from advertising. We have a modified experience for viewers using ad blockers

Wikia is not accessible if you've made further modifications. Remove the custom ad blocker rule(s) and the page will load as expected.