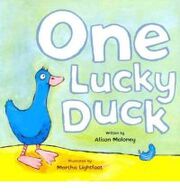 One lucky duck – Alison Maloney
Description
This book is a children's picture book suitable for Foundation stage and Key stage 1. The story is that of a duck that has lost his quack throughout the book he meets a selection of different animals who try to help him find his quack. On each page the number of animals increases by one. As the duck meets each different type of animal it learns their animal noise. The story follows the layout of a simple counting book with each page repeating the story just with a different number of different animals.

When considering the book for use in the Foundation stage this is because it helps to teach children their basic counting from 1-10 and it also teaches different animal noises. Children can join in and count the animals themselves as each page comes with a vivid picture of all the animals. The pictures throughout this book are also very detailed, vivid and simple and are therefore good for descriptors of the stories for those non-readers. The language used is quite simple and memorable in the use of rhyming words and repetition, which helps to build vocabulary. In Key stage 1 the book is useful for early readers in helping them decode words however although aimed at younger readers some of the words are more advanced so children will need support to read and understand them.

This book also has implications in Key stage 2 for aiding the learning of alliteration or rhyming words. When describing where the animals live very good adjectives are used that at times either alliterate or rhyme, for example slippy, sloppy muck or bumpy, lumpy straw. 
Reader's Reviews
1
(moved from description) Overall this book is a very good read that aids learning of numbers and animal sounds and is great as a read aloud book or as an early readers book, however when using One lucky duck for early years and key stage one help may be required in explanations of certain words.
2
Add your review here.
Parental Guidance
Reading Age:
Reading Aloud Age:
External Links

This article is a stub. You can help Children's Books Wiki by expanding it.
Ad blocker interference detected!
Wikia is a free-to-use site that makes money from advertising. We have a modified experience for viewers using ad blockers

Wikia is not accessible if you've made further modifications. Remove the custom ad blocker rule(s) and the page will load as expected.