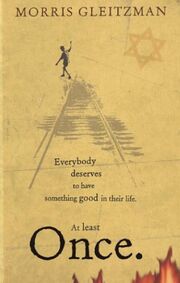 Description
Everybody deserves to have something good in their life. At least Once. Once I escaped from an orphanage to find Mum and Dad. Once I saved a girl called Zelda from a burning house. Once i made a Nazi with a toothache laugh. My name is Felix. This is my story.
Reader's Reviews
1
The book Once by Morris Gleitzman is the hopeful story of a young Jewish boy named Felix, set in WW2, and retells the events of his life during this time. The book looks at his close friendship with a young girl Zelda and a mysterious adult Barney. The story is told through the voice of Felix and he retells events through a child's eyes, instantly captivating the reader. Throughout the book, the reader will engage with Felix's hopeful outlook, but as events begin to sink in, it becomes apparent that Felix experiences frustration with the world around him. The fact that the story is based around fact means it is superb for both adults and children. The book is more suited to KS2 reading and some of the issues he covers mean it is relevant only for those aged 9 and upwards. The themes addressed by Morris Gleitzman may be to some quite hard to comprehend but the author celebrates ordinariness and childishness even as he chronicles terrible events. To many readers this story will be an introduction to the Holocaust and Morris Gleitzman writes in a way that allows the reader to come to a realization of facts at the same pace as Felix does, whilst creating a sense of optimism for the characters in the book.
I believe the book 'Once' is a superb read that educates and captivates the reader. As a reader, the empathy you develop with the characters allows you to understand the everlasting hope that not only Felix shows, but all of those around him.
2
Please add your review here.
Parental Guidance
Reading Age: 9 years +
Read Aloud Age: 10 years +
If you like this you might like
Other books in the series: Then, Now, After.
External Links

This article is a stub. You can help Children's Books Wiki by expanding it.
Ad blocker interference detected!
Wikia is a free-to-use site that makes money from advertising. We have a modified experience for viewers using ad blockers

Wikia is not accessible if you've made further modifications. Remove the custom ad blocker rule(s) and the page will load as expected.