Om-kas-toe of the Blackfeet
Comments

0
1,323pages on
this wiki
Om-kas-toe of the Blackfeet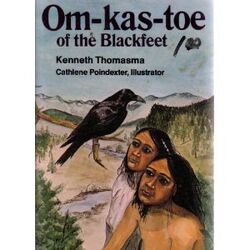 Description
Om-kas-toe of the Blackfeet is a historical fiction book, written by Kenneth Thomasma.
Om-kas-toe is an American Indian Blackfeet tribe member in the 1700s. With his sister, he discovers elk-dogs (horses) and brings them into use in his tribe.
Reader's Reviews
1
Interesting, engaging and true life story.
2
OM-KAS-TOE is a great book.
3
Please add your review here.
Parental Guidance
Reading Age: 10+
Reading Aloud Age: 7+
At the beginning Om-kas-toe's mother has to persuade the tribe to let her keep both her twins.
If you like this you might like
List other books or authors here.
External Links
Add external links here.