Description
In this classic story by one of the world's best-loved and acclaimed storytellers for children, the man in the moon looks down on the happy, dancing people on Earth every night, wishing he could join them. He hitches a ride on a passing comet, but quickly finds himself thrown into jail by people who see him as an invader, rather than a friendly visitor. The Moon Man, however, has a most unusual - but perfectly logical - means of escape, and sets out to make his way back home. This is a beautifully illustrated, quirky and gently satiric fable that children and adults are sure to find delightful.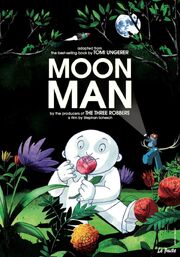 Note- In 2012, the Moon Man was adapted into an animated feature film directed by Stephan Schech.
Parental Guidance
Ages 4-8
Grade Level- Preschool to 3rd Grade
Readers Reviews
If you like this story, you may also like:
Ad blocker interference detected!
Wikia is a free-to-use site that makes money from advertising. We have a modified experience for viewers using ad blockers

Wikia is not accessible if you've made further modifications. Remove the custom ad blocker rule(s) and the page will load as expected.