Mimi's Christmas
Comments

0
1,323pages on
this wiki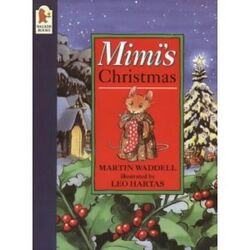 Description
Mimi is the oldest of the mouse family, who looks after her mouse brothers and sisters. They all write letters to Santa Mouse. Hugo, the smallest mouse, can't sleep on Christmas Eve and looks to Mimi for reassurance.
Reader's Reviews
1
This is a simple story for young children, with good illustrations and a fine repetitive style of text. The Christmas theme works well, but to be honest, I much prefer Mimi and the Picnic which is written in a very similar style by the same author.
Our edition is "published exclusively for Sainsbury's". I'm not sure if it's easily available elsewhere.
2
Please add your review here.
Parental Guidance
Reading Age: 5+
Reading Aloud Age: 3+
Clean
If you like this you might like
External Links