Description
George has more adventures than James Bond!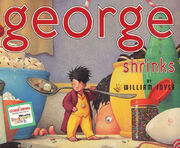 Only three inches tall, he can ski down mountains of dishes, swim with goldfish, and take rides in his new toy airplane. But taking care of his giant baby brother and brushing his teeth can be real challenges for the mouse-sized George.
Reader's Reviews
1
Please add your review here.
Parental Guidance
Reading Age: 3-7 years
Reading Aloud Age: 3-7 years
Add comments about the book's suitability, possible concerns and content. If the book is totally clean put "Clean".
If you like this you might like
Dinosaur Bob & His Adventures with the Family Lazardo
External Links
Ad blocker interference detected!
Wikia is a free-to-use site that makes money from advertising. We have a modified experience for viewers using ad blockers

Wikia is not accessible if you've made further modifications. Remove the custom ad blocker rule(s) and the page will load as expected.