Elmer in the Snow
Comments

0
1,321pages on
this wiki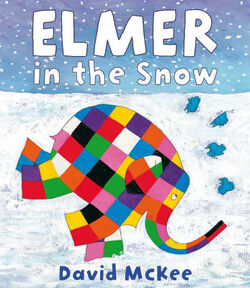 Description
Elmer the patchwork elephant leads his friends up a mountain into the snow, where they enjoy a snowball fight, sliding on the ice, etc.
Reader's Reviews
1
This is reasonably entertaining, better than some of the Elmer series, which overall don't appeal to me very much. The illustrations are bright and bold, but the idea of elephants romping in the snow all seems a bit foolish to me. My daughter likes all these books though. Probably the best bit in this particular title is that it's quite fun to count the blue birds on each page, and ask 'where have the others gone? Will they come back again?'
2
Please add your review here.
Parental Guidance
Reading Age: 5+
Reading Aloud Age: 3+
Clean.
If you like this you might like
Several other books in the Elmer series.
External Links