Description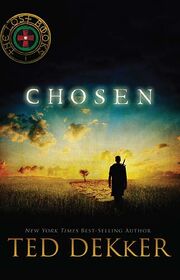 Chosen is a Christian fantasy novel, written by Ted Dekker, and published in 2007 by Thomas Nelson Publishing. The novel is the first in The Lost Books series and the first chronologically. It involves two worlds, one in which evil is seen on the outside and the other, "our world", in which evil can hide on the inside.
Think with your heart and prepare to die for you have been Chosen.
The land of the Forest Dwellers has been decimated by the Horde under the watchful eye of the vilest of all creatures, Teeleh. Thomas Hunter, supreme commander of the Forest Guard, is forced to lower the recruitment age of his army from 18 to 16. From among thousands, four new recruits are chosen to lead - and perhaps die - for the greater good.
The chosen four are sent on a quest to prove their character, but their mission takes a dramatic turn when they are intercepted, sworn to secrecy, and redirected to a different endgame. Now they must find the seven lost Books of History. Books whose words are alive. Books sought by the Dark One that control not only the destiny of their world...but that of ours as well.
Reader's Reviews
1
Please add your review here.
Parental Guidance
Reading Age: 12+
Reading Aloud Age: 12+
This book contains violence.
If you like this you might like
External links
Ad blocker interference detected!
Wikia is a free-to-use site that makes money from advertising. We have a modified experience for viewers using ad blockers

Wikia is not accessible if you've made further modifications. Remove the custom ad blocker rule(s) and the page will load as expected.