Charlotte's Web
Comments

2
1,049pages on
this wiki
Charlotte's Web
| | |
| --- | --- |
| Author: | E. B. White |
| Illustrator: | Garth Williams |
| Published: | 1952 |
| Country: | U. S. A. |
| Pages: | 174 |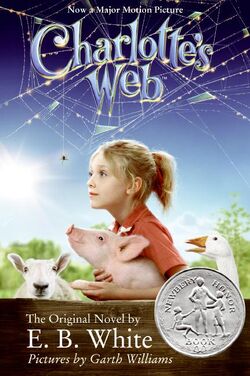 Description
Edit
This is the story of a little girl named Fern, who saved a tiny pig from being killed by her father because the pig was a runt. Having raised the pig for six weeks the pig has to go. He is sold to Fern's uncle, who lives close by, so Fern can visit the pig, who is called Wilbur, every day. But Fern's uncle is not raising Wilbur for fun. Oh no, Wilbur is going to become delicious sausages, bacon and ham if somebody doesn't do something...
There have been several films made out of this, one cartoon, and a more modern, animated film, in 2006.
Reader's Reviews
Edit
My dad read me this book when I was a kid. It so cool!
Please add your review here.
Parental Guidance
Edit
Reading Age: 11+
Reading Aloud Age: 6+
(add any other guidance here)
If you like this you might like
Edit
External Links
Edit