Billionaire Boy
Comments

0
1,296pages on
this wiki
Billionaire Boy
| | |
| --- | --- |
| Author: | David Walliams |
| Illustrator: | Tony Ross |
| Published: | October 28, 2010 |
| Country: | United Kingdom |
| ISBN: | 978-0-00-737108-2 |
| Pages: | 279 |
| Genre: | Humour |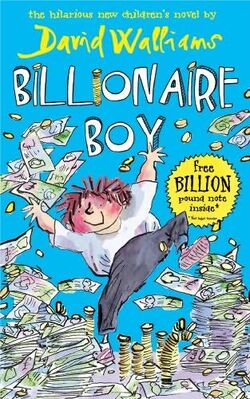 Description
Billionaire Boy is a great novel and humorous children's book written by David Walliams, illustrated by Tony Ross, and published in 2010. The book included a "billion pound note" that was used to enter a competition to win a day as a billionaire in London. The book is about a boy called Joe Spud, who is no normal child but a Billionaire Boy! He owns a Formula One racing car and everything a twelve-year-old kid could dream of. But Joe learns that wealth can't give him everything.
Meet Joe Spud, the richest 12-year-old in the world.
Joe has everything he could ever want:
his own Formula One racing car,
a thousand pairs of trainers,
even an orang-utan for a butler!
Yes, Joe has everything he wants,
but there's just one thing he really needs: a friend...
Praises for Billionaire Boy
"A triumphant mix of wit and warmth"—Telegraph Books of the Year
"Guaranteed to appeal to youngsters … definitely another hit for Walliams."—Express
Reader's Reviews
1
I thought it was very Funny! I thoroughly enjoyed it and I would recommend it to everyone!
Harryvlas123 21:05, January 28, 2012 (UTC)
2
this book is great get this book first and you will be sucked into david walliams books. Luxurious book!!!!!!!!!!!!
Parental Guidance
Reading Age: 11+
Reading Aloud Age: 9+
There are a few rude words in this book, but they aren't very serious words.
If you like this you might like
External Links